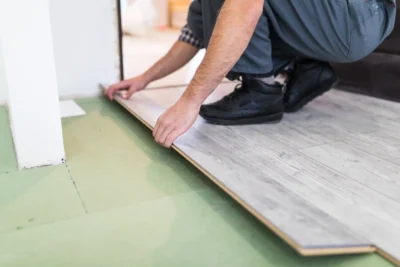 Step into the highest standards of modern flooring in Dallas with vinyl plank options from All Flooring Install.
When it's time to elevate your space, nothing beats the style, versatility, and unique appeal of a luxury vinyl floor. From the authentic appearance to the durable design, there are many reasons why homes and businesses choose this style of flooring.
Our specialists can install luxury vinyl flooring at your location, delivering a level of quality that matches the upscale nature of the surface itself. 
All Flooring Install is a trusted expert in flooring serving the Dallas area with vinyl plank options perfect for your residential or commercial space. 
We're Your Source for Vinyl Plank Flooring Installation in Dallas
If you're looking for a luxury vinyl installation, All Flooring Install is here for you. Our specialists are trained and proven to provide the amazing service you deserve.
Just like this type of flooring is versatile and easy to work with, we are as well. Our team provides you with an enjoyable experience from start to finish, and we have the credentials you can trust. We are:
Rated very highly

on Google and Yelp

BBB accredited 

Member of the National Wood Floor Association  
We're not just a flooring company – we're an industry expert, and we've built our track record on a commitment to quality. This has led us to amass a customer base from referrals.
We've got thousands of completed projects and satisfied customers to our name, and we'd be thrilled to provide luxury vinyl flooring for you next. 
Benefits of Vinyl Plank Flooring: Beautiful, Durable, and Versatile 
Luxury vinyl plank flooring offers an exceptional aesthetic appeal that rivals the beauty of traditional hardwood or stone flooring. With advancements in technology, manufacturers have perfected the art of replicating natural materials, resulting in vinyl planks that closely resemble the intricate grains and textures of wood or the intricate patterns and colors of stone.
These realistic designs, coupled with a wide range of color options, allow you to achieve a wide variety of looks, including but not limited to:
The warmth of oak

The rustic charm of reclaimed barnwood

The elegance of marble
The attention to detail extends to the embossed textures, which mimic the authentic touch of real wood or stone.
Furthermore, vinyl plank flooring offers versatility in design. It can be installed in various patterns, such as herringbone or diagonal layouts, allowing for creative expression and customization. The wide planks provide a modern, spacious feel to rooms, making them visually appealing and enhancing the overall aesthetics of any interior.
In addition to its stunning appearance, luxury vinyl plank flooring is designed to maintain its beauty and charm for years to come. 
Vinyl Plank Flooring Offers More Than Looks
Anyone who searches "vinyl plank flooring install near me" is likely not only thinking about looks, but longevity as well. It's not just the aesthetics that make this a top choice – luxury vinyl floor options are also highly durable.
This protects it against high traffic, scratches, and stains. Maintenance is easy, as is installation. Cleaning it usually requires only regular sweeping and occasional damp mopping. Luxury vinyl installation is often straightforward, with options for glue-down, click-lock, or loose lay methods, depending on your preference and skill level. Its versatility, longevity, and user-friendly features make it a great choice for all budgets.
Luxury vinyl plank (LVP) and some specific vinyl tile options are designed to be waterproof, withstanding everything from droplets to high humidity to spills. This makes the flooring ideal for locations such as:
Kitchens

Bathrooms

Laundry rooms

Basements
It's also suitable for living rooms, bedrooms, and hallways, providing a durable and low-maintenance flooring option. However, it's important to note that vinyl flooring must be installed properly to provide its full durability.
Turn to our experts in vinyl plank flooring in Dallas to make sure your setup goes smoothly!
Variations and Other Considerations
When you search up vinyl plank flooring install near me, you may be curious about how this option compares to others. 
Vinyl and laminate flooring options are similar in appearance but have different compositions. Vinyl flooring is made of synthetic materials like PVC, while laminate flooring consists of a core of high-density fiberboard (HDF) with a photographic layer on top. 
Vinyl is generally more water-resistant, while laminate is more resistant to scratches and dents. Both options offer affordability and versatility, but the choice depends on your specific needs and preferences.
The type of vinyl flooring you choose depends on your requirements and personal taste. Luxury vinyl plank (LVP) is a popular choice, offering a wide range of realistic wood textures and excellent durability. Sheet vinyl is a cost-effective option, perfect for large areas with minimal seams. Vinyl tile provides the versatility of replicating natural stone or ceramic tiles. 
Consider factors such as style, durability, installation method, and budget when deciding which type of vinyl flooring suits your needs best.
And as always, only trust this important task of flooring installation to the very best Dallas has to offer – All Flooring Install is always here for you.
Step Into Elegance with Luxury Vinyl Floor Today 
Whether you desire a traditional, contemporary, or eclectic look, luxury vinyl plank flooring provides the perfect blend of style and durability for a truly remarkable aesthetic appeal.
It's got all the benefits of the best-looking floor option around, including detailed texture, pattern, and color variations. It also brings a number of other benefits that make it a well-rounded choice for nearly any location. It is:
Durable against heavy foot traffic

Waterproof against splashes and spills

Easy to install and take care of 

Long lasting and a great investment
Your floor plays a major role in the look and feel of a room. Picking the right surface puts you on a solid foundation and a proper footing – so get your luxury vinyl install started today.
We're the Expert in Vinyl Plank Flooring Dallas Trusts
The process of floor installation must be done properly so it will look great, last long, and leave you without worries. You'll be thrilled with the work we do here at All Flooring Install.
Whether it's a residential or commercial facility, we're equipped to provide the quality you deserve. You'll get quality materials, courteous service, and complete satisfaction.
Contact us today for a free estimate.