Engineered Hardwood Flooring
Expert Installers of Engineered Hardwood Flooring
Looking for engineered hardwood flooring in Dallas, Texas? All Flooring Install has got you covered! Contact us today to learn more!
Engineered hardwood is a great option if you want to stretch your budget and get the beautiful look of natural wood. This is a layered product made up of a thin slice of hardwood on top of a base of high-quality plywood, as opposed to solid hardwood which is just that: made of solid wood through and through.
It's a cost effective option that's durable and gorgeous, and we are expert installers of engineered hardwood here at All Flooring Install. Our team offers top quality service while securing a safe environment for all our satisfied customers, building on a proven reputation in the local industry for outstanding quality work. Committed to serving our customers and our community, we fuse our core values into all our decisions and actions with honesty and integrity.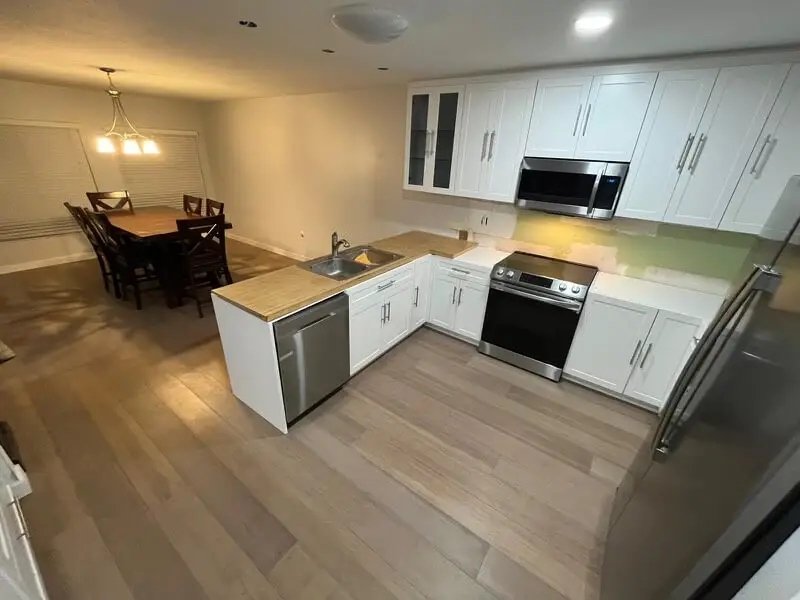 We are based in Richardson but serve the surrounding area from Dallas to Allen and beyond. And with courteous, fast and efficient installers who are dedicated to your 100 percent satisfaction, you can rest assured you're getting the best quality flooring at the best possible price.
Benefits of Engineered Hardwood Flooring
There are many reasons why home and business owners choose engineered hardwood. Those benefits include:
Looks just like real wood: A good quality engineered wood floor will fool even the strictest skeptics into thinking the floor could be solid wood.
Doesn't expand and contract like solid wood does: Due to its clever construction, engineered hardwood flooring does not expand and contract to the same extent as solid wood does. Therefore, it's safe to place in environments where solid wood would risk damage, such as kitchen and bathroom where moisture levels and temperatures fluctuate daily.
Durable: Because it is made up of layers of plywood that are bonded together and topped with a solid wood layer, this type of flooring is very tough and can withstand heavy footfall in both home and business environments.
Can be re-sanded and re-finished: How many times it can be re-sanded will depend on the thickness of the top layer, but the truth remains, engineered hardwood can be re-sanded to restore its luster and rid it of stains and imperfections. Likewise, you can refinish it for added protection.
Available in a range of species, grades and finishes: Engineered wood flooring has many options for its lamellas or top layers, with different grades of wood meaning you can choose the option that suits your budget. You could get a tough, lacquered low-budget option or you can go with an aged, oiled-top quality option.
Easy to install: This type of flooring is easy and quick to install, which means your project is finished in a fraction of the time.
Affordable: Engineered hardwood may look like it costs a fortune, but it's actually quite affordable.
Other services we offer
In addition to engineered hardwood flooring installation, we also offer:
Ceramic and tile
Solid hardwood
Laminate
Sand and finish
Undercuts
Contact All Flooring Install in Dallas, Texas
To learn more about our engineered hardwood flooring in Dallas contact us at 972-679-3172. We are conveniently located in Richardson TX, and serve the Dallas metro area, including but not limited to Dallas, Richardson, Allen, Mckinney, Plano, Garland, Mesquite, Highland Park, University Park, Park Cities, Addison, Carrollton, Irving, Grand Prairie, The Colony, Frisco, Coppell, and more.