Complete Stair Services by All Flooring Install
All Flooring Install can help with your stair install in Richardson and Dallas!
Are you facing a remodel in your home or business? Don't forget the stairs! We can install, repair, sand and finish stairs of any kind. So, whether you want to update the look of your existing hardwood floor stairs, get them sanded and refinished to restore their luster, or add custom inlays and other details, All Flooring Install is the one to call.
Our skilled installers can help restore the beauty and luster of your hardwood floor stairs that can get dull and damaged over time. If you are doing a remodel of one room or all of them, you can't neglect to update the stairs. They have to match the rest of the home in style and vibrancy. And since stairs take a lot of abuse every single day, they occasionally need some TLC to keep them beautiful and safe.
We can sand them down and finish them up with a top layer of gloss, bringing life back to your stairs and indeed your home. We have a set process that we go through here at All Flooring Install when it comes to stair installation, repair, and restoration. Get in touch with us and we will give you a quote, go through our process with you, and go over your budget to see which option is best for you.
Our goal is to do a quick yet efficient and thorough job so as to minimize the disruption to your daily routine. Keep in mind, we take all precautions to keep dust to a minimum through the use of tarps and other protective elements.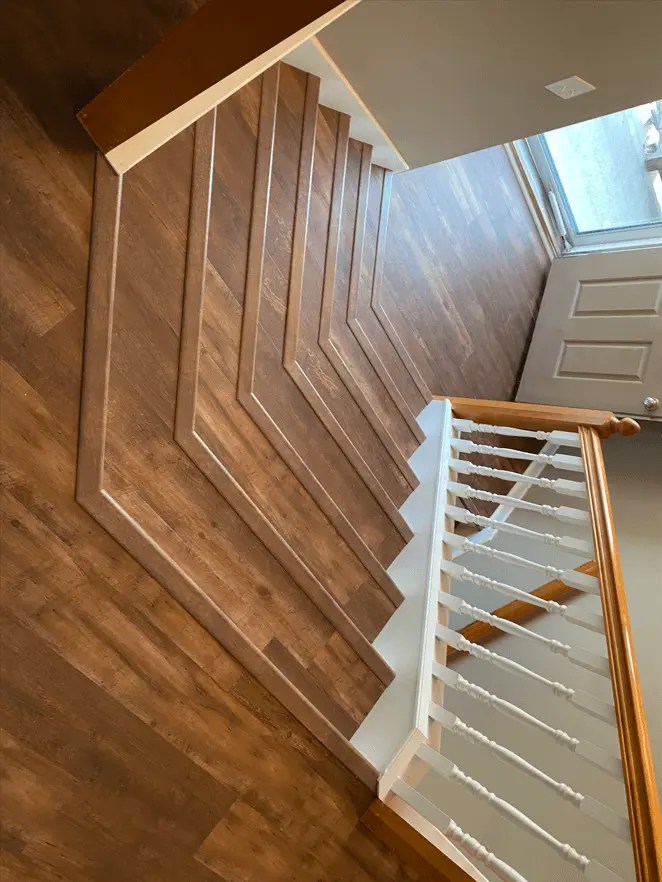 Advantages of restoring your hardwood stairs
There are many reasons why home and business owners decide to restore, repair, sand and finish their stairs, including:
Safety: Old stairs in a state of disrepair can pose a safety threat to those who use them. Rusty nails can protrude, cracks can hurt feet, and worn surfaces can lead to trips and falls. By upgrading your stairs, you're doing your part to keep occupants safe as they navigate the space.
Beauty: Sanding and finishing can make even the oldest and dullest stairs look new again. And if your stairs look beautiful and restored, the whole room does too.
Value: Sanding and refinishing can instantly increase your home's market value, as prospective homebuyers want to see homes with freshly-sanded and finished hardwood floors and stairs.
Strength: Sanding will even out the surface of each step so that it remains level, closing up any spaces that exist between planks. It can also tighten up loose nails and remove wood splits, making the stairs more resistant to traffic.
Cleanliness: Finished stairs tend not to collect dust as much. All you need to do is an occasional quick sweep and a wet mop job, just as you would for your floors.
Pest Control: A well-sanded stairwell goes a long way toward preventing the attraction of pests because it eliminates small crevices and holes where pests such as termites and other insects can set up shop.
Contact All Flooring Install
If you need stairs installed, repaired, sanded or finished, contact us at 972-679-3172.  All Flooring Install can help with your stair install in Richardson and Dallas. We are conveniently located in Richardson TX, and serve the Dallas metro area, including but not limited to Dallas, Richardson, Allen, Mckinney, Plano, Garland, Mesquite, Highland Park, University Park, Park Cities, Addison, Carrollton, Irving, Grand Prairie, The Colony, Frisco, Coppell, and more.