Providing Sand and Finish Services
All Flooring Install will sand and finish floors in Dallas and Richardson, Texas. Contact us to learn more about our products and services.
Whether you want to change the look of your existing hardwood floors, apply a different color stain or just give it an updated finish, you need sand and finish services from All Flooring Install. Here, we are well-versed on installation, repair, and sanding and finishing services for all types of hardwood flooring.
This is the best way to restore the beauty and luster of your hardwood floors that can get dull and damaged over time. By sanding them down and then finishing them up with a top layer of gloss, you can bring life back to your floors and your home. We have a set process that we go through here at All Flooring Install when it comes to sanding and finishing.
Give us a call and we can go over your budget, give you a quote, and go through our process with you. Our goal is to do a quick yet efficient and thorough job so as to minimize the disruption to your daily routine. We take all precautions to keep dust to a minimum, as well, with the use of tarps and other protective elements.
Serving you throughout Richardson, Dallas, Plano and beyond, we are proud of the materials we use to ensure long-lasting durability and high return on your investment.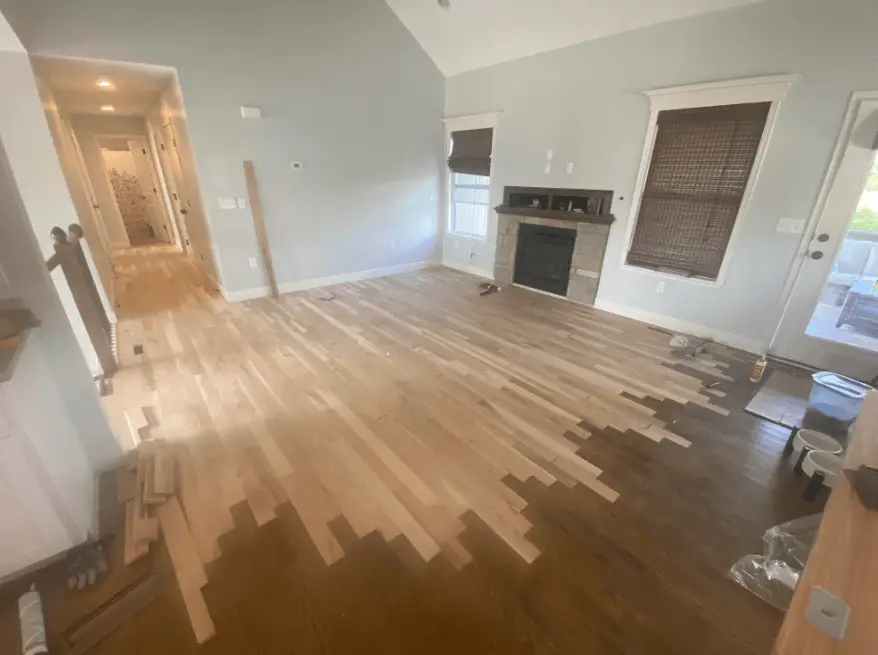 Advantages of Sanding Hardwood Floors
So why do home and business owners sand and finish their hardwood floors regularly? There are many reasons. Check out these benefits of sanding your hardwood floors:
Beauty
Sanding makes even the oldest and dullest floors look new again. And if your floors look beautiful and restored, the whole room does too.
Value
With sanding, you can instantly increase your home's market value. Prospective home buyers want to see homes with freshly-sanded and finished hardwood floors – a huge advantage when your property goes on the market. Any real estate agent will tell you this!
Safety
Sanding cuts down on the prevalence of cracks and splinters developing in your hardwood. So, kids, pets, and other family members can walk across the floor in socks or bare feet without harm.
Strength
Sanding will even out the surface of the floor so that it remains level, closing up any spaces that exist between planks. It can also tighten up loose nails and remove wood splits, making the floor more resistant to traffic and furniture weight as a whole.
Cleanliness
Finished floors don't collect dust as much. All you need to do is an occasional quick sweep and a wet mop job.
Pest Control
A well-sanded floor goes a long way toward preventing the attraction of pests because it eliminates small crevices and holes in the floor where pests such as termites and other insects prefer to burrow and breed.
Contact All Flooring Install
Contact All Flooring Install and they will sand and finish floors in Dallas home. You can contact us at at 972-679-3172. We are conveniently located in Richardson TX, and serve the Dallas metro area, including but not limited to Dallas, Richardson, Allen, Mckinney, Plano, Garland, Mesquite, Highland Park, University Park, Park Cities, Addison, Carrollton, Irving, Grand Prairie, The Colony, Frisco, Coppell, and more.