The Difference Between Porcelain and Ceramic Tile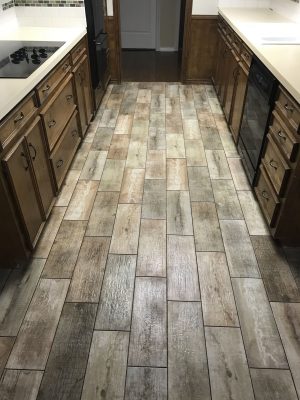 You may use the words porcelain and ceramic tile interchangeably, but there are actually subtle differences between the two. The big difference lies in how they're made. Both tiles are comprised of a clay mixture fired in a kiln, but porcelain tile contains a more refined clay that is fired at higher temps. This means it's denser and more durable than its ceramic counterpart.
Ceramic tile results when you mix a base of clay with various types of minerals and water.
Porcelain tile is the result of mixing clay, sand, and feldspar, a natural mineral in granite. The sand makes the mixture stronger, and the feldspar melts it all together to make it more durable.
Both ceramic and porcelain may feature a ceramic glaze; the difference lies in the body composition. Porcelains can be glazed or unglazed. Unglazed or full-bodied porcelain tiles feature color that runs through the entire thickness, rather than just a glaze placed on the top. This makes it last longer, with the ability to resist chipping. Ceramic tiles are only coated with a glaze, so you will see the clay material underneath if it chips or cracks. For this reason, ceramic tile is best for areas of low to moderate traffic.
Porcelain tile is classified as an impervious form of ceramic tile, which means it absorbs less than 0.5% of water. Ceramic tile has a higher absorption rate, so spills must be wiped up right away.
Advantages of Porcelain Body Tile
Many people prefer porcelain body tile due to:
Greater body strength.
Less likelihood of cracking.
Freeze/thaw resistance, ideal for outdoor use.
Less floor expansion and contraction.
Another difference between the two is price. Ceramic tile is less costly than porcelain tile, plus, it's easier to cut and shape to unique spaces. Porcelain is often used for high-traffic areas in a home because it's got a high density and durability. You will pay more for that privilege.
You don't want to use ceramic tile in areas that are exposed to moisture on a regular basis, such as the bathroom and patio. Ceramic tile can also be very cold underfoot in the winter. But by the same token, it can feel refreshing in summer!
In the end, the type of tile you select will depend on your personal preference and the style that works best in that particular room.
Tile Upkeep
Porcelain can withstand spills and scratches well. All you have to do in the way of maintenance is sweep and vacuum your porcelain tile once a week. Monthly, use a vinegar-and-water solution to rejuvenate the surface. For ceramic, do a weekly deep cleaning, but be sure to thoroughly dry the floor after cleaning; you don't want to leave any standing water on it.
Contact All Flooring Install
To get more information on porcelain vs. ceramic tile and to schedule your consultation, contact us at 972-679-3172. We install both here at All Flooring Install.