The Best Flooring Types For Your Bathroom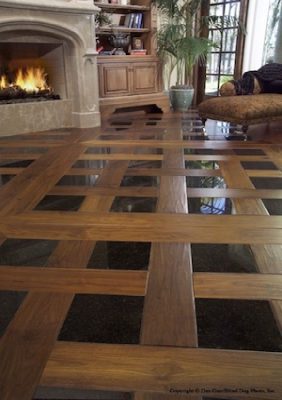 The bathroom is one of the trickiest areas of the house to determine which type of flooring is best. You don't have quite the same range of options as you do throughout the rest of the house. In general, carpeting and hardwood are out (at least in bathrooms with showers/tubs), so you're left with ceramic tile, laminate, vinyl or linoleum. This is mainly due to the presence of moisture and water in the typical bathroom.
There are many factors to consider, such as durability, water resistance, appearance, cost, and ease of installation. Let's go over the best kinds of flooring for bathrooms and why.
Porcelain or Ceramic Tile
Porcelain tile is a commonly used material in bathrooms, and for good reason. It's waterproof, stylish, and cost effective, with a textured, solid functionality just like natural stone. And just like vinyl, it's affordable and waterproof. There are two types of tile to choose from: ceramic and porcelain.
With either option, they are easy to clean and resist standing pools of water. Tile is cold, but you could always install heated tile or radiant tile underneath. You can add a texture to the tile if you're concerned about slipping.
Pros of Tile
Several style choices
Strong resale value
Can be used in conjunction with radiant heating
Cleans easily
Cons of Tile
Vinyl Flooring: Sheet, Plank, or Tile
Vinyl has been a popular choice in bathrooms for decades. If you expect a lot of water spillage, such as in a kid's bathroom or in the laundry room, sheet vinyl flooring is your best bet. Due to its large size, you can install it so there are little to no seams visible. Luxury vinyl plank flooring is emerging as a popular choice as well.
Pros of Vinyl
100% waterproof
Cost effective
Easy to DIY
Easy to replace
Cons of Vinyl
Poor resale value
Bumps and gaps on subfloor affect appearance and feel of vinyl surface
Engineered Wood
If you absolutely must have hardwood in your bathroom, engineered wood is a better choice than solid wood because it performs better under high moisture conditions. Hardwood is fine to use in guest bathrooms where there is no shower or tub, but it's not recommended for master baths or high-traffic kids' bathrooms where lots of splashing is expected.
Pros of Engineered Wood
Beautiful look of hardwood
Dimensional stability
Authentic hardwood on top
Cons of Engineered Hardwood
Over-sanding can wear down the veneer layer
Can be expensive
Laminate Flooring
Laminate flooring is comprised of resin-impregnated paper on top of a wood chip base, with the surface being a photograph of oak, cherry, marble, slate, or some other wood or stone. A wear layer is placed on top. If you take measures to protect the wood base from intrusion of moisture, laminate will work well in your bathroom. That's because the tight seams between the planks make it tough for water to get in.
Laminate is easy to clean, but it will expand and bubble if it comes into contact with too much moisture. The only solution would be to tear it out and start over.
Pros of Laminate
Cons of Laminate
Water-damaged laminate can't be fixed
Can collect static
Flooring to Avoid
In general, you will want to avoid wall-to-wall carpeting and solid hardwood in bathrooms.
Contact All Flooring Install
For more advice on which type of flooring would be best for your bathroom and usage, contact us in Richardson TX at 972-679-3172.