Pros and Cons of Installing Laminate in Your Kitchen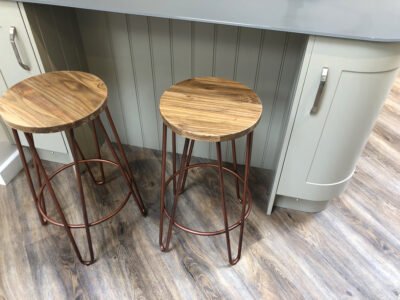 When renovating your kitchen, the toughest choice of all will likely be what flooring to use. Many homeowners choose laminate due to its many benefits for this busy room of the house. Not sure if laminate is right for you? Check out these pros and cons of laminate installation in the kitchen.
Pros
Aesthetically Pleasing
As one of the more versatile flooring options out there, laminate is also appealing to many thanks to its wide range of styles, colors, designs and patterns. You can go with a laminate pattern that looks like hardwood, or perhaps tile or stone. You're not limited in the aesthetic choices you have at your disposal. There are literally hundreds of different colors to choose from so you get the best match.
From contemporary to timeless styles, you'll never be at a loss as to which look to go with. For example, your kitchen may be best suited with sleek modern-looking laminate planks or tiles, or maybe you have a traditional kitchen that would be best paired with a rustic and antiqued version. Whatever the case, you really can't go wrong.
More Affordable Than Tile and Natural Stone
The best thing about laminate is the affordable price tag. You can actually get it for as cheap as $3 per square foot. And with hardwood being up to five times more expensive than laminate, the choice is a no-brainer.
You will also save on labor and installation costs when it comes to laminate flooring as well, because there is no nailing, gluing, or stapling needed. They simply snap together to comprise a floating floor of sorts. Plus, you don't have to create a sub floor or pull up existing flooring – you can just install laminate right over the top of what's there already.
Fewer Defects
Unlike hardwood or natural stone flooring, where some pieces have pattern variations or unusual colors that make them look out of place once pieced together, laminate is well-defined and continuous, with perfect variations that won't detract from the finished version. You get more consistency with laminate because the manufacturers are better able to control the product quality.
Durable and Easy Maintenance
Because there is a clear wear layer on top of every laminate piece, your floor remains protected from stains, fading and scratches. Even in kitchens where foot traffic is at its highest, laminate withstands regular abuse well. Plus, this smooth surface is easy to clean. All you have to do is sweep and mop as needed.
Con
Moisture Damage Possibility
Laminate could be damaged when exposed to moisture for long periods of time. So, if you spill water or some other liquid on the floor, wipe it up immediately. Standing water can warp and stain the laminate.
Cannot Be Refinished
Unlike hardwood floors, you can't refinish worn or aged laminate flooring. Your only option is to replace the whole thing. Fortunately, laminate lasts between 15 and 25 years.
Lack of Eco-Friendliness
Laminate is not the most environmentally-friendly material, as it doesn't degrade quickly in landfills due to the plastic component. Plus, some laminate floors are made with chemicals like formaldehyde which release volatile organic compounds (VOCs) into the air.
In the end, the decision to go with laminate or not will depend highly on your budget and personal preference. We can help you decide!
Contact All Flooring Install
To get more information on installing laminate in your kitchen or anywhere else in your home, schedule your consultation when you contact us at 972-679-3172.