In the Kitchen: Hardwood vs. Tile Flooring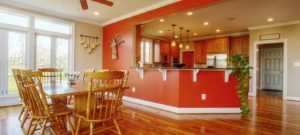 If you're looking to renovate your kitchen, the flooring you will choose will be a major consideration. It will indeed influence much of the rest of your décor, so choose wisely. Many homeowners have a dilemma: should I go with hardwood or tile? You can't go wrong with either.
Tile is the traditional choice because it's durable, easy to clean and doesn't dent. Hardwood flooring is becoming more and more popular for its fluidity in blending with the rest of the home's flooring, offering an elegant, sophisticated look to the busiest room in the house: the kitchen.
Let's go over the benefits and drawbacks of both so you can make an informed decision.
Tile Flooring
Tile flooring is versatile and can be used in pretty much any room of the home, ideally for kitchens.
Here are some quick benefits of tile. Tile floors:
Are water-resistant.
Have a smooth surface to keep moisture away.
Are easy to clean and maintain.
Have endless customization options, allowing you to mix and match colors, patterns, textures, and sizes.
Are cost effective.
Can easily be crafted to mimic other materials such as the knots and grains of hardwood.
Don't stain, scratch, chip, or dents easily – things that can happen to hardwood floors if not properly maintained.
Are easy and cost effective to install and repair; you can replace one tile without ripping out the whole thing IF the tile in question is not out of stock or discontinued.
Drawbacks of tile floors:
The grout lines get dirty fast and they're tough to clean.
Tile can be cold underfoot.
Plates can shatter when dropped on hard ceramic or tile.
Tile can be tough on the joints.
Hardwood
Some of the benefits of hardwood include:
Timeless, elegant addition to your home
Never goes out of style
Is more forgiving on your feet and joints
Matches any décor
Authentic craftsmanship
Increases property value
High ROI
Easy to clean
Can last a lifetime with proper care
Relatively easy to replace one board if damaged.
Some drawbacks include:
More expensive than tile
Can get warped by water, a big possibility in a kitchen, especially around dishwashers and sinks.
Can get dented if you drop a plate or utensil on it.
The decision to go with tile flooring or hardwood flooring isn't an easy one. There's no one-size-fits-all solution, so you will have to do your homework before settling on the best choice for you. We can help.
Call All Flooring Install
For a free, onsite estimate, contact All Flooring Install at 972-679-3172. We serve the Dallas metro area with quality hardwood, ceramic and tile floors for kitchens of all types and sizes.