Hardwood or Carpet on Stairs: Which is Best For You?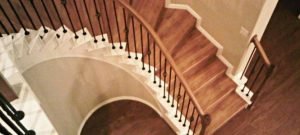 If you are considering installing hardwood in your home, your next thought may be: do you stick with hardwood in the main part of the home only, or should you do the stairs too? Would carpeting or runners be better for the stairs? These are all very good questions, and it's a decision that ultimately will come down to your personal preferences.
To help in your decision, here are some things to consider:
Carpet is Safer
In terms of safety, carpeting will win every time. If you have young kids or elderly parents living with you, carpeting is probably the better choice. If someone falls, the impact will be cushioned, plus the initial risk of falling is lower because carpeting is not slippery like hardwood is.
Cleaning and Maintenance Concerns
Where cleaning and maintenance are concerned, hardwood is the better bet. Carpeted stairs accumulate more dirt and dust than hardwood, plus it doesn't last as long and gets worn out over the years. You have to regularly vacuum your carpeted stairs, whereas you only have to sweep or mop your hardwood stairs every once in a while or as needed. Additionally, hardwood does not harbor allergens like carpet does. If you do decide on carpeting, go with low pile rather than high pile, as it's easier to keep clean.
Noise Reduction
Carpets absorb sound, so if you want a bit of insulation against thumping feet of little ones down the stairs, you have noisy pets, or you want to lessen the loud music you hear from your teen's bedroom, carpet is a good choice. Also, over time, wooden stairs can start to creak, which may start to annoy you.
Cost Considerations
Hardwood costs double what carpeting does, so if you're on a very tight budget, stick with carpet on the stairs. However, keep in mind the lifetime cost of cleaning carpeting, including yearly steam cleaning. If you have wiggle room in the budget, go with hardwood. It will cost more initially but will offer a better long-term investment.
Aesthetics
Hardwood offers an undeniable aesthetic appeal that many homeowners prefer. If you like a classic, elegant look that never goes out of style, go with hardwood. If you choose carpeting, the color may be outdated in 10 years, not to mention it could get faded and worn.
In the end, the choice between carpet or hardwood on your stairs will be a matter of personal preference and your lifestyle. If you simply can't decide between the two, compromise on a carpet runner to get the best of both worlds. It's always possible to change your mind in a few years if you want a change in style or want something with fewer maintenance demands.
Contact All Flooring Install
Need more advice on which material to use for your stairs? We can help. Just contact us at 972-679-3172 to schedule your consultation on adding carpeted or hardwood stairs.