FAQs About Hardwood Flooring Installation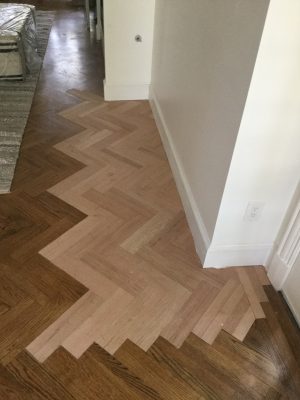 You may be considering hardwood flooring installation for your home, but you may have a lot of questions before taking the plunge. We have compiled a list of the most frequently asked questions about hardwood flooring and what to expect.
Q: Is Hardwood Flooring Durable and Long-Lasting?
A: Yes, hardwood floors are durable and can last decades when well cared for. Different types of wood can be softer or harder depending on the species you choose. You'll want to tailor the type of wood you get to the areas in your home. For example, heavy traffic areas or families with kids and pets may want to go with a harder wood. Engineered flooring tends to last longer because it's not impacted by temperature and moisture level changes as much as solid hardwood flooring.
Q: What's the difference between solid and engineered hardwood?
A: Solid hardwood is made of, well, solid wood through and through, and is a timeless, authentic classic for any home. Engineered hardwood, on the other hand, is a layered product comprising a thin slice of hardwood on top of a plywood base.
Q: What Can I Expect During the Installation Process?
A: If necessary, the old floor will be removed. Then, everything will be cleaned and leveled, and the new hardwood floor will be installed on top. Your contractors will cut the boards to length on-site, cleaning up any sawdust or debris promptly. The room in which the flooring will be installed will be blocked off from regular use. If you are getting one whole floor done or the entire home, you will have to vacate the premises for a few days while the installation is going on.
Q: Is Hardwood Flooring Affordable?
A: Hardwood floors aren't as expensive as you might think, although they do cost more than other materials such as laminate. Many factors impact the price of hardwood floors, such as the type of wood you choose, how long or wide the planks or boards are, whether you go with solid wood or engineered, and which finish option you select. They last the longest of all flooring materials, so the price you pay is certainly an investment in your home that will pay off for many years to come.
Q: Will Hardwood Floors Increase the Value of My Home?
A: Yes. Today's home buyers are attracted to homes with hardwood floors and they are willing to pay more for them. Some estimates say hardwood floors can increase the sale price of a property by up to 15%.
Q: What Kind of Maintenance do Hardwood Floors Need?
A: Not much. Some daily vacuuming or sweeping will keep dust away as well as any grit that may scratch the boards. You don't have to use special polishes and waxes, but just don't mop your floors with water, as this could warp the boards.
Contact All Flooring Install
To get a consultation and estimate on hardwood flooring installation, or to ask additional questions, contact us in Richardson TX at 972-679-3172.