Best Flooring For Your Home Office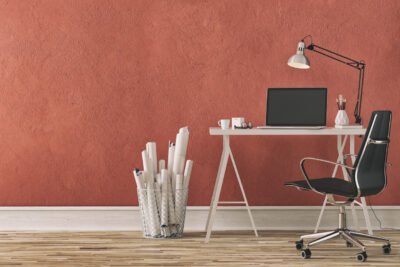 With more and more people working from home due to the pandemic, home offices are becoming more important and popular. And because you'll be spending a significant portion of your day there, you want to make sure it's as comfortable as possible. A lot of that has to do with the flooring you choose.
In order to handle all the demands of office life, such as heavy equipment, desks and rolling chairs, it should be strong, versatile and flexible. You may not want to do a lot of maintenance, so you may want to choose a floor that doesn't require a lot of upkeep.
Some things to keep in mind when choosing the ideal floor for your home office include:
How much use it will get
What type of business you run
What kinds of furniture and equipment you will have
Acceptable noise levels
Anticipated foot traffic
Need to share the space for other purposes, such as a playroom
Hardwood
If you're going for classy and traditional, you can't go wrong with hardwood. Sophisticated and classic, hardwood flooring is a must where impressions on guests, clients, and business partners are critical. It's easy to maintain but can be vulnerable to scratches.
Tile
Tile is stylish, comes in many patterns and colors, and can be relatively affordable. However, it can be hard to walk on or stand on for long periods of time, it's cool in the winter, and it can be noisy if you were to roll an office chair back and forth over it.
Carpet
Carpet is comfortable and cozy, it absorbs heat, and it won't crack or scratch if something falls on it. It's very affordable, but it can harbor lots of pollen, dander and dirt if you don't vacuum it regularly. Plus, it can stain easily if beverages are spilled. It's also harder to roll objects like chairs and office equipment across it.
Laminate
Laminate flooring is beautiful and reasonably priced, plus it's easy to clean and maintain. Available in many styles, it's resistant to moisture, unlike hardwood and carpet. However, it comes with time-consuming installation and the planks require a vapor barrier underneath.
Everyone has different tastes and needs when it comes to their home office flooring. Something that may work well for you won't work for someone else. That's why home office flooring is a highly personal decision. The option you select should increase your comfort, productivity, and overall sense of well-being.
The material you end up with should be aesthetically pleasing, easy to maintain, functional, and long lasting, plus it should fit within your budget.
Contact All Flooring Install
If you need help deciding which type of floor to install in your home office, contact us in Richardson TX at 972-679-3172. We have a variety of hardwood, tile and laminate flooring materials to choose from.