Best Flooring For Game Rooms and Man Caves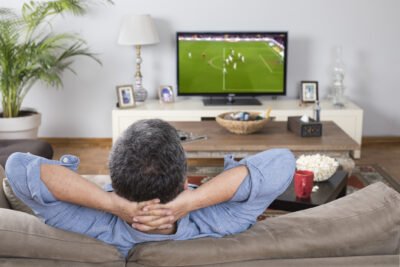 If you're a guy with a man cave (or a woman with a woman-cave!), you know what a special and unique space this is in your home. You want everything to reflect your personality and style, as well as match your comfort and usage levels. It's quite fun to personalize this space with the perfect furniture, paint color, pool tables, pinball machines, video games, sports memorabilia, bar, fridge, and – of course — man cave flooring.
Man caves can mean different things to different people. For some, it's a sports memorabilia showroom. For others, it's a music room, theater room, video game hideaway, arcade space, or bar room. Whatever yours looks like, you'll need the right flooring to accommodate your lifestyle.
Here's a look at the most durable flooring options for man caves and game rooms.
Luxury Vinyl
Not only is luxury vinyl flooring tough, durable, and water-resistant, it can resemble natural wood or stone, with the ability to fit just about any décor.
Carpet
If you use the space as a movie theater or a place to have the guys over to watch the game every Sunday, carpet may be best. This is because carpet fibers are great at absorbing sound so you can watch what you want, as loud as you want, and the distraction throughout the rest of the house will be minimal.
You'll just have to be careful about spills. A related option is to install soft carpet tiles, which come in many different types and patterns, and even in your favorite sports team colors.
Tile
Tile is tough and is a natural conductor of heat, which makes it a great choice for rooms that have radiant heating.
Wood
This classic choice is durable and easy-to-clean, offering a touch of elegance to your man cave.  Cork, a type of wood floor, is especially good for these rooms due to its sound absorption qualities. You can even line your walls with it!
However, if your man cave is in the basement, hardwood flooring is not always the best choice because it's no friend of moisture. If you absolutely want hardwood, go with engineered wood floors.
Rubber
Rubber floors are perfect for workout rooms, garages, workshops, game rooms and anywhere else that requires a durable floor. You can install it in sheets or tiles and can even roll it out over concrete. Rubber withstands heavy weights falling on it and any other active play you may want to engage in. Kickboxing anyone?
Contact All Flooring Install
Need more suggestions for your man cave or game room flooring? Schedule your consultation with us when you contact us at 972-679-3172. From LVT and carpet to hardwood and tile, there are endless possibilities when it comes to installing durable, affordable flooring in your home.