7 Top Ways to Clean Tile Flooring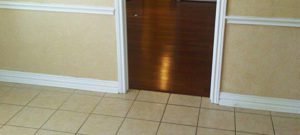 There are many reasons homeowners choose tile flooring for their high-traffic areas, from versatility to easy maintenance. And because it comes in a wide range of colors and styles, you can mimic the look of any other material and match your existing décor seamlessly. Here's how to keep your ceramic or tile floor looking its best day in and day out.
Here are seven suggestions:
#1: Clean up Spills FAST
Tile can be slippery when wet, so if you spill wine, juice, milk, water or any other liquid, mop it up quickly to avoid spills and staining. It's best to use absorbent cloths for standard spills, or go for a sponge and cleanser or disinfectant for tougher stains. You've got to be more aggressive on certain types of accidents, like raw eggs and meat. Once done cleaning, do a once-over of the area with a clean wet rag or sponge. Chemicals left on tiles can dull them.
#2: Vacuum and Dust
Get out a vacuum or dust mop (don't use straw brooms – they scratch tile) each day and do a quick clean of the floor. It's much easier to stay on top of basic maintenance on a regular basis than let it build up and embed in your tile and grout. This will help you avoid such deep cleanings later on.
#3: Mop Once Weekly
Once a week, do a medium clean with a wet mop and water with some mild soap if you so choose. This will restore the tile's shine, color and gloss. Always vacuum first, and always check the manufacturer's website before using specific cleansers to avoid tile damage. Once done, dry the area so no one slips on the wet floor.
#4: Add Area Rugs
As we said before, tile can get slippery. It's a good idea to strategically place area rugs around your home, such as in front of the sink, at doorways, along hallways, etc. This will keep dulling, scratching and dirt build-up at bay.
#5: Use Doormats
Likewise, utilize doormats at entry doors so no one brings mud, water or worse from the outside in. if you have tiling in your bathrooms, you'll need mats in there as well to sop up excess moisture after baths and showers.
#6: Do a Deep Clean
Every few months, it's time for a deep clean. It's not pleasant, but it has to be done. You will thank yourself later. This will get rid of stains, greasy residues and dirty grout. Here's a quick homemade solution: Mix up a half cup of white vinegar (or you can go with plain rubbing alcohol if you choose) and a gallon of warm water. In the case of stubborn grease, blend water and dish detergent for effortless cleaning.
#7: Scrub the Grout
Grout is porous, so it sucks up liquid and dirt very easily. This makes it harder to clean. You really have to scrub at it to reclaim its former appearance. You can do this by creating your own paste mixture consisting of water and baking soda. Spread that paste it onto the grout and leave it overnight. The next day, get out an old toothbrush and put some elbow grease into the job. Rinse it with some warm water when you are done.
It's easy to keep your tile or ceramic flooring looking beautiful. You just need to give it some TLC!
Contact All Flooring Install
For more tile flooring cleaning tips or to get a free on-site estimate, contact us at 972-679-3172.