5 Benefits of Installing Ceramic Flooring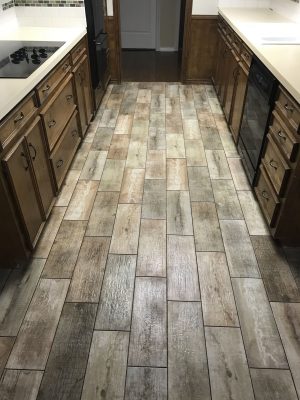 Ceramic tile is a versatile flooring material that works in most any room of your house. It's most popular in kitchens, bathrooms, foyers, hallways, mud rooms, sun rooms, and other high-traffic areas. This durable, elegant flooring is easy to clean but it can be cold underfoot. But that same hard surface doesn't harbor dirt, dust, pollen and other allergens like carpeting does.
Here are some quick pros and cons:
Pros
Durable
Resistant to water and staining
Non-allergenic
Versatile design options
Cons
Cold
Hard underfoot
Heavy
Difficult and time-consuming installation
Now, let's go over some benefits to ceramic tile flooring.
1.  Relative Affordability
Ceramic tile is one of the most affordable flooring options, starting at under $5 per square foot for budget tiling. You will spend more, though, as you consider better-looking tile paired with professional installation. National industry statistics reveal that ceramic tile flooring installed by a professional can range from $15 per square foot to $60 per square foot, depending on the tile quality and difficulty of installation.
2.  Maintenance and Repair
Ceramic flooring is easy to clean and maintain, particularly in the case of glazed tiles, which feature a hard, protective top layer that resists water and stains. This is why tile is so great for wet areas like bathrooms, laundry rooms and kitchens. Routine maintenance is minimal, comprised mostly of simple sweeping or vacuuming with a soft brush. The grout in between the tiles should be sealed occasionally to resist stains.
3.  Durability
Ceramic flooring is very tough and difficult to crack. Actually, tile flooring can last hundreds of years with quality installation and care. If for some reason, a single tile cracks under extreme stress, due to a heavy object falling on it, it's fairly easy to replace that one tile.
4.  Design
Ceramic tiles can be printed or embossed with a variety of designs. You can mix and match solid tiles in patterns or accent them with custom designs and motifs. They can also mimic the look of hardwoods and natural stones. Or, you could cut and shape them into triangles, rectangles, or planks.
Ceramic tile flooring matches virtually any home style, particularly well-suited to Mediterranean or Southwest-style homes.
5.  Comfort and Convenience
Ceramic is hard, making it difficult and uncomfortable to stand on for long periods of time. This hardness can be risky in kitchens, where a dropped plate is likely to break. It's also a liability in homes that have people who are likely to slip and fall, such as kids and the elderly.
You can, of course, offset this with the use of decorative throw rugs or area rugs in places where you will be standing for long periods, such as in kitchens near the sink. This gives you the opportunity to introduce comfortable design elements throughout tiled areas to break up monotony. Tile is also cold, which may necessitate wearing slippers in winter. But in summer, this coolness is welcomed.
Contact All Flooring Install
To get a consultation and estimate on tile flooring installation, contact us in Richardson TX at 972-679-3172.