4 Ways to Prepare for Professional Wood Floor Installation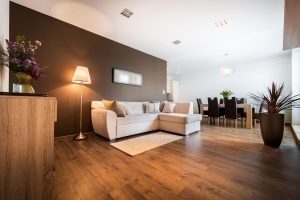 If you decide to install hardwood flooring in your home, there are certain steps you should take to prepare for the job, particularly before the installers arrive. Through these simple preparations, you can prevent much of the dust buildup and damage that may happen throughout your home without protection.
Even though wood flooring companies like All Flooring Install take every precaution possible to protect your furniture and surroundings, it's always wise if the homeowners do their part before our installers arrive. Check out these four things you can do to make the flooring installation process easier on everyone involved.
1.    Remove Doors
Your floor installers will typically remove the doors from the hinges before beginning the installation process. Keep in mind they may not necessarily store the doors as safely and gently as you want, so here's what you can do beforehand:
Remove doors from hinges.
Place them in another room.
Place a blanket in between doors when storing to prevent scratches.
Place all hinge pins in a plastic baggie so they stay together.
2.    Remove Door Trim
Removing case and stop moldings on doorways can be more of a challenge than removing baseboards, but it is possible. Most installers will not remove them as part of the process but rather, will cut the bottoms of the moldings in, in order to better place the new flooring underneath. Achieve a neater look by removing the moldings altogether. Now it's easier on the technicians to fit the flooring boards for a tighter and more precise fit around the frame of the door. The result? A more polished and uniform look.
3.    Control Dust
Dust is the #1 problem that comes with wood flooring installation, which can be a challenge if you want to have the wood flooring stained and varnished once in place. Any flooring installation company worth its salt will take the necessary steps to minimize the mess. That being said, sometimes dust gets through. You should:
Seal off rooms that the installers won't be working in.
Close all doors, then cover the doorway with plastic sheets. Seal them with masking tape.
Tape plastic sheeting over all heating ducts, vents and openings so airborne dust doesn't enter the room and get caught in the fresh varnish.
4.    Remove Baseboards
You have the choice of removing the entire baseboard or the moldings along the bottom edge. This way, technicians have more space to install the flooring planks in a close fit to the walls. Many homeowners take this opportunity to purchase and install brand new baseboards for an updated look.
Contact All Flooring Install
For more information about what our installers can do for you as part of our hardwood flooring installation process, contact us in Richardson TX at 972-679-3172.